Let's face it, Alaska is huge. It took me two entire months to exhaust what I wanted to see in the state. Knowing that most visitors don't get that amount of time to lollygag and browse the sights that the state has to offer, I've created this comprehensive (but subjective) list of what you simply can't miss on your trip. So how did I pick these top spots? The list is compiled based on my subjective views of available natural beauty, wildlife, history, and unique natural landscapes. Most of Alaska's beauty isn't accessible without intense back country trekking and float plane access– and even then you can't see it all. Below you will find my top 9 national and state parks, preserves, conservation, and wildlife refuge areas that are reasonably accessible for travelers who take on the monumental task of wanting to see the real Alaska.

#1- Gates of the Arctic and Alaska National Wildlife Refuge
I'll be honest, I've seen a lot of mountains. But none of them prepared me for what The Gates of the Arctic and Alaska's National Wildlife Refuge looked like. We skirted these remote northern parks via the Dalton Highway to Deadhorse. Muskox circled their young as we drove past. An arctic fox in his summer coat stared curiously, carrying a lemming in his mouth. The drive offered landscapes that didn't seam real. I met real Alaskans that brave -80F winters at the Yukon Camp, build their homesteads by hand, and have ravenous grizzlies inhabit their places of summer business. The Atigan Pass and it's braided rivers are a sight that continue to haunt me because of their beauty. The arctic is essentially Alaskan, but most visitors won't make it this far north. The upside is that if you do, your rewarded with views of the strikingly remote northern habitat that are unlike anything below the Arctic Circle.

#2- Lake Clark National Park & Preserve
Probably one of the most magical things that I've ever done in my life was go out to the back country with Scenic Bear Viewing. I have been scared of brown bears during my camping and hiking ventures across North America. This trip, where I was twelve feet from an adult Coastal Brown Bear who approached, gave me a deeper understanding about the behavior of the majestic giants. I gush about my trip to Lake Clark here.

#3- Denali National and State Parks
Some folks will be surprised that Denali didn't rank #1 on my list. Although it is a must do, I found the sweeping views of the valley floor to be a little overrated. Most people don't get a clear view of Denali like the one above. The bus ride through the park is a bit excessive (10hrs). However, visiting this National Park did provide me with opportunities to photograph interior grizzlies, caribou, and moose. I also enjoyed listening to wolves hunt nearby our cabin. Read more about my tips and visiting Denali here (link to come).


#4- Chugach State Park, National Forest & Portage Glacier
If there was one place that really surprised me, it was the Chugach (chew-gak). I know what you're thinking: "Just another glacier" right? Wrong. Much more impressive than the Exit Glacier near the cruise ship port of Seward, Portage is surround by surreal boreal forest and clear glacial streams. Bring a lawn chair and a book to dip your feet in along one of the many braided streams along Portage Glacier Road. Visit the Beigich Boggs Visitors Center for fantastic videos about the park, the people who have explored it throughout the ages, and legends about where the name

Chugach came from. Long ago on Prince William Sound, a solid sheet of ice, native hunters kayaked along the Pacific Ocean. A man cried out "Chu-ga, Chu-ga!" meaning "hurry, hurry" to investigate what was poking out out of the ice. It turned out to be the newly emerging mountain tops. The indigenous group settled on the ice free banks of the Sound.

The fact that this legend has been passed down for us to have access to it is pretty incredible.

The port town of Wittier, with it's Rivendale ribbon waterfalls and Mordor-like skinny tunnel are just a short drive away. Bring binoculars to look for bears on the high mountain slopes.

#5- Wrangel St. Elias Park & Preserve
It's incredibly difficult to visit Wrangel St. Elias. Even when I went to the visitor's center, I wasn't technically in the park. It took days just to skirt the outside of this park. Even so, the towering peaks looked jagged and enormous out in the distance. The heart of the park can be accessed via the dirt road to McCarthy. However you can get a sense for just how huge America's largest national park actually is by taking HWY 1 into Tok (Toke) and heading south through Copper Center. Here I stayed at the no frills Uncle Nicolai's Inn, where the locals drove their gators and four wheelers to the bar to get rowdy in the midnight sun. Witnessing the festivities was an Alaskan experience in itself. This area felt like one of the most remote places in interior Alaska that I visited. The park is so big that there are places inside of it that no known human as ever laid eyes on.


#6- Kenai Fjords National Park & Thumb Cove State Marine Park
I'll admit that even though I had a great time, this place kind of broke my heart. I did a typical boat tour based out of Seward so that I could photograph orcas. After I called to inquire about the local salmon run, the young teenage worker on the other end of the line told me that orcas were basically spotted daily in Resurrection Bay. Pumped, I drove the 200 mile R/T to Seward alone and got to experience what life is like as a solo female traveler. (I've been burned before looking for orcas in 2017 at Telegraph Cove) Surrounded by families, I was shocked at how many strange looks I got presumably for being out alone. I also had several people, young and old, look me in the face and blatantly ignore me when I addressed them. Maybe it was too windy to hear. (It wasn't). Nevertheless I gained a huge respect for solo travelers. Sure enough a friend of mine posted videos of orcas chowing down on the salmon run a couple of weeks later. Darn you orcas, I will get you one day.

Puffins were the next item on the agenda to photograph. I was surprised by how adorable that they are and became a little obsessed. This day, and my day photographing sea otters, are what nudged me to purchase my new Sigma 150-600mm camera lens. If you're heading to Alaska and aim to shoot wildlife with your DSLR don't screw up like I did. I missed tons of bear, puffin, & otter photo ops because I didn't have a professional caliber lens. But no more can I say that. I got one just in time for the end of my trip. Sorry wallet.
Believe it or not the most exciting part of the fjord trip was being surrounded by the many species of sea birds and watching them dive from their cliff dwellings. I also saw lots of sea lions (which I think should be named sea dogs because they act like … dogs), a mountain goat nanny with her kid (!) a couple of seals, impressive glaciers, and a mother humpback swimming impressively close to sheer cliffs to disguise her newborn calf in their migration north. That smart mamma knew that there were elusive orcas in the area I'll bet.
7- Kenai River Special Management Area and K'beq Interpretive Site
The K'beq Site in Cooper Landing was one of the most educational experiences that I had about Native history, which was super interesting. The site included a language map that traced the evolution of Native languages from Alaska to the American Southwest, linguistic proof of Native migration from the Land Bridge, farther south. Young tribal leaders did a phenomenal job taking small groups on a short walk of a site where their Dena'ina ancestors decided to form a sedentary settlement due to the plentiful salmon cycle. Walking the site where a real house pit used to sit was very educational and allowed me to connect to the rich history at a deep level. The guide shared about different types of edible plants on the site and helped us sample them. Dena'ina couples slept inside wooden boxes together for warmth with their children with bachelor males slept on top of benches. It was also amazing to learn about modern technologies like refrigeration that the Dena'ina utilized long before European Americans invaded. The surrounding town of Cooper Landing continues to be a place where fisherman and bears alike look to the glacial streams of the Kenai River for subsistence to this day.

Amazingly, visiting K'beq is totally free.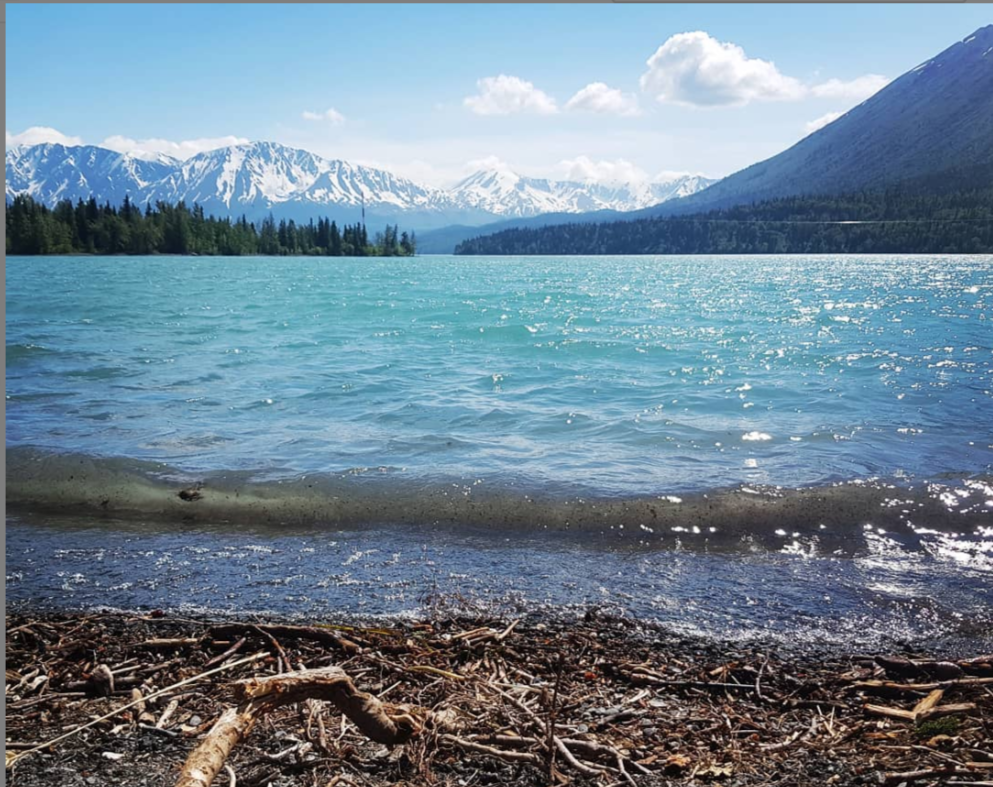 Another totally free activity–
#8- Island & Ocean Visitor's Center, Homer
The Aleutian chain runs 1,000 miles west of the main land with more small islands that can be counted. The islands and their invaluable wildlife are protected inside of a park that hardly anyone visits. Homer boasts the only visitors center for the park overlooking Bishop's Beach. Here you can find a timeline that tells about everything from the Russians farming foxes on fox island for their fur to the military campaigns of WWII.



#9– Alaska Native Heritage Center, Anchorage
Newsflash (because I didn't know) not all Alaskan Native are Inuit . . . there are numerous tribes, all with their own traditions, histories, art, & cultures in Alaska. I had no idea. If you want to immerse yourself in the original culture of Alaska (I became slightly obsessed) them you have to visit the states widest collection Okay okay–it's not exactly a park but there is a park in the back of the museum with totems and information of the history of Alaskan tribes. Call to inquire about activities led by young Native Alaskans from across the state like dances and storytelling– that aspect made this place truly special– the tribes from all over the state participate in this collection and take pride in sharing with visitors.



Other honorable mentions of parks to visit in the state:
Karl Wynn Nature Center (Homer)
Kenai National Wildlife Refuge (Kenai Pen.
Anchor River State Recreation Area
Deep Creek State Recreation Area
Kenai River Special Management Area
Matanuska Valley — Moose Range Conservation Area & Hatcher Pass
Anchorage Coastal — Wildlife Refuge
What's your favorite part of wild Alaska?